Inflammation Test
€29,00 Free Shipping
Results within 24 hours after arrival at the lab

Ordered before 18:00, shipped today

Free shipping on every order
Acute inflammation is a part of the body's immune response and is usually a temporary reaction to injuries, infection, or illness. Unlike the swelling and redness caused during acute inflammation, long-term, low-level chronic inflammation often does not cause any symptoms, but can slowly damage your body over time. Chronic inflammation can damage blood vessels and is associated with several health conditions, including heart disease. This test measures highly sensitive C-reactive protein (hs-CRP), a marker of inflammation that can be used to assess heart disease and heart attack risk. Learning your hs-CRP levels can help you make lifestyle changes that reduce chronic inflammation and your risk of inflammatory diseases in the future.
Test method: Finger prick test
What do we test for?
hs-CRP
About hs-CRP
CRP stands for C-reactive protein, a type of protein produced by the liver in response to inflammation in the body. It is a biomarker commonly used in to assess the level of inflammation present in the body. When inflammation occurs due to infection, injury, or certain diseases, CRP levels in the blood increase rapidly.
Instructional video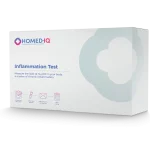 Easy to use from home

Professional analysis in a medically certified laboratory

Most affordable home test provider
About the test
Summary of Biomarkers
Symptoms
Results
About the test
What is inflammation?
Acute inflammation is the immune system's response to any threat to the body, such as injuries or infection. Inflammation is what causes symptoms of redness, swelling, or pain and usually goes away once healing has taken place. Chronic inflammation is inflammation that occurs when no injury or illness is present or if the immune system remains activated after a period of acute inflammation. Chronic inflammation often causes no symptoms, meaning it can persist in the body at low levels for years unnoticed.
Chronic inflammation can damage blood vessels, promote the growth of plaques, and loosen plaques in your arteries, leading to heart disease, heart attack, or strokes. Unlike inflammation that occurs due to an infection or injury, low-level chronic inflammation often does not cause any symptoms, hampering early intervention
If you want a more complete picture of the health of your heart and blood vessels, you can opt for the Heart Disease Test. This test measures hs-CRP along with cholesterol and HbA1c. As vitamin D deficiency is associated with increased CRP, we also offer a Vitamin D and Inflammation Test.
How does this inflammation test work?
This hs-CRP test can easily be done from home. Simply activate your test and follow the provided instructions to successfully collect the sample and then send it to our certified laboratory using the prepaid shipping label. Within a few days, your test results will be ready in our secure online portal. This result contains your personal CRP measurement, easy-to-understand information about inflammation, and tips on how to reduce inflammation through lifestyle changes.
How do I collect my sample for a Inflammation Test?
This is a finger prick test that can be collected at home. Your test kit contains all the necessary materials to collect your sample, and only requires a few drops of blood.
Summary of Biomarkers
What is CRP?
CRP is a protein that your liver makes in response to inflammation. The more inflammation in your body, the more CRP is released into the bloodstream. A highly sensitive CRP (hs-CRP) test is more sensitive than a standard CRP test and can detect low levels of inflammation that could indicate chronic inflammation. Homed-IQ's hs-CRP Test allows you to measure low levels of CRP in blood from home.
Why is CRP important?
CRP is a measurement of inflammation in the body. This inflammation can be caused by infections, injuries, chronic illnesses, or certain lifestyle factors. As chronic inflammation is associated with heart disease, measuring CRP at low levels (hs-CRP) can help estimate an individual's risk of stroke, heart disease, or first and second heart attacks (Harvard Health, 2017). Measuring hs-CRP levels can provide insight into the level of inflammation in your body and potential cardiac risk. Knowing your hs-CRP level can be used to guide preventive health care or make lifestyle changes to reduce inflammation. 
Symptoms
Low-grade chronic inflammation generally does not cause immediately noticeable symptoms, but may cause:
Fatigue
Headaches
Muscle aches and joint pain
Constipation, diarrhea, and other gastrointestinal issues
Skin rashes
Results
How soon will I receive the results of this inflammation test?
Once you have taken your blood sample and sent it to our medical partner laboratory, it should take a few working days to receive your test result. As soon as your test kit arrives at the laboratory you will receive a notification by email. Once your test result is ready, you will receive a text message and an email with a link to your result. Homed-IQ aims to keep you well informed throughout the testing process and provide a seamless testing experience.
What do the results of this inflammation test mean?
Your results from Homed-IQ's Inflammation Test will contain your CRP level and whether the level is normal or elevated. The result of this test cannot identify where the inflammation is coming from in the body, or how long it has been there. 
A result of elevated CRP should be confirmed via follow-up testing several weeks after the initial test. CRP can be temporarily elevated due to recent illness, trauma, or infection. If your CRP is elevated, speak to your healthcare provider about potential causes and/or additional testing for chronic inflammation. 
After you have placed the order, your test kit will be delivered within a few days in discreet packaging.
Activate and take your sample
After the online activation of the test kit, you can collect the test sample and return it to the lab for analysis.
A certified laboratory will analyze your test and share it with our medical team, after which you receive the results in your account.
Frequently asked questions
Which foods help fight inflammation?
Diet plays an important role in reducing chronic inflammation. Try to incorporate the following anti-inflammatory foods into your diet:
Avocado.

Extra virgin olive oil.

Fatty fish.

Onions and garlic.

Leafy greens.

Berries.

Green tea.
Read more about foods that cause inflammation on our blog.
What is a dangerous CRP value?
Moderately elevated CRP levels (greater than 3 mg/L) can be caused by several different factors and while not immediately dangerous, can increase your risk of certain diseases over time. A CRP level greater than 10 mg/l may mean your body is having an acute inflammatory reaction, such as a bacterial or viral infection or trauma. A CRP level of more than 50 mg/dL is generally considered severe elevation. Results over 50 mg/L are associated with acute bacterial infections most often. If your CRP is elevated, more tests will be needed to figure out what is causing your inflammation. 
What causes high CRP?
The most common cause of high CRP levels is an infection or injury. Other possible causes include autoimmune diseases such as diabetes, Crohn's disease, or arthritis. A sedentary lifestyle and obesity are also potential causes of elevated CRP.
What can you do to reduce CRP?
A healthy lifestyle plays a very important role in reducing inflammation and CRP levels. Regular exercise, stress management, and an anti-inflammatory diet are some examples that can help you with this.