Homed-IQ is proud to be now offering an exciting new test from EUROIMMUN: the Anti-SARS-CoV-2 QuantiVac ELISA (IgG), or QuantiVac test. This test measures COVID-19 IgG antibodies in the blood and can indicate past exposure to the virus, as well as an immune response after vaccination. Requiring only a small quantity of blood and simple sample collection methods, the QuantiVac test can inform you of your COVID-19 antibody status from the comfort of your own home.
About the test
This test specifically detects IgG antibodies against SARS-CoV-2 using the S1 domain of the spike protein. This is different from a PCR test for COVID-19, which detects current infection with the virus. The spike protein is located on the surface of the COVID-19 virus and is a key target antigen for virus-neutralizing antibodies. In fact, many vaccine development programmes also use this spike protein as a target. The test permits quantitative (numerical) results in standardized units, also known as binding antibody units (BAU) per millilitre of blood. The reporting of test results in BAU is in line with current World Health Organization international standards for SARS-CoV-2 antibody reporting (Infantino et al., 2021).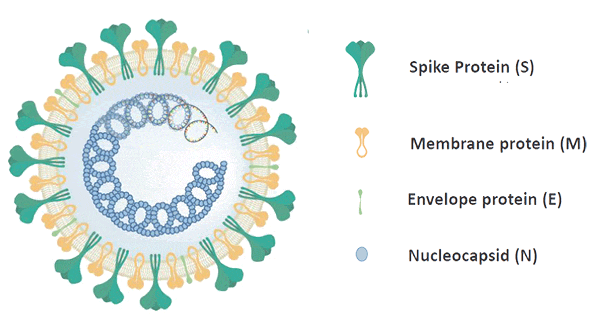 A diagram of the SARS-CoV-2 virus, depicting the spike proteins on the surface
The QuantiVac test can be performed from your own home using a Dry Blood Spot (DBS) method. DBS testing involves pricking your finger with a provided lancet and depositing a small quantity of blood onto a paper card, which is then dried and mailed back to Homed-IQ for laboratory analysis. Within a few days, test results and their interpretation will be available online in Homed-IQ's secure, confidential user portal.
Antibody Types and COVID-19
In one to three weeks after COVID-19 infection, IgG, IgM, and IgA antibodies can be detected in the blood. The QuantiVac test is designed specifically to detect IgG SARS-CoV-2 antibodies. This is because IgG antibodies are the most common type of antibody to be found in the blood and are seen to play a role in longer term immunity to viruses. Other antibodies, such as IgM and IgA, are most often present during the initial phase of COVID-19 infection or vaccination and can fall to low levels over time. For this reason, IgG antibodies are most useful for assessing longer term antibody levels, particularly following vaccination.
When to test
Research has shown that it can take several weeks for COVID-19 antibody levels to rise to detectable levels, and that testing within the first 14 days of infection or vaccination could yield inaccurate results (CDC, 2021). Therefore, it is advised to wait a minimum of fourteen days after vaccination before using the QuantiVac test.
Antibodies and Immunity
Scientists are still determining how COVID-19 antibody levels affect immunity and the risk of re-infection. However, it has been found that people with COVID-19 antibodies are less likely to develop a subsequent infection than persons without these antibodies (CDC, 2021). The durability of this immunity is yet to be determined. As such, the QuantiVac test allows users to measure their antibody levels at different points in time following vaccination, which can be useful as researchers work to better understand COVID-19 immunity over time.
Who should use this test
Homed-IQ aims to make the testing process as smooth and simple as possible while giving users increased knowledge and control of their health. The QuantiVac test is suitable for anyone who has been recently vaccinated for COVID-19 and is interested in knowing their IgG antibody status. The test also allows users to reassess their antibody levels over time following vaccination.
The Homed-IQ team is excited to now be able to offer the QuantiVac test, which can be ordered here. Any comments or questions are welcome by contacting us.
References
Infantino, M., Pieri, M., Nuccetelli, M., Grossi, V., Lari, B., Tomassetti, F., Calugi, G., Pancani, S., Benucci, M., Casprini, P., Manfredi, M., & Bernardini, S. (2021). The WHO International Standard for COVID-19 serological tests: towards harmonization of anti-spike assays. International Immunopharmacology, 100, 108095. https://doi.org/10.1016/j.intimp.2021.108095
Interim Guidelines for COVID-19 Antibody Testing. (2021, February 11). Centers for Disease Control and Prevention. https://www.cdc.gov/coronavirus/2019-ncov/lab/resources/antibody-tests-guidelines.html