Corporate Health Check
€89,00 Free Shipping
Including medical consultation

Results within 24 hours after arrival at the lab

Ordered before 18:00, shipped today

Free shipping on every order
Check in on your health from the comfort of home. The Corporate Health Check measures key biomarkers for blood sugar, cholesterol, and vitamin levels. Knowledge of these markers can help you reduce your risk of disease and make changes where needed. Use this test as a check-up or as a starting point to further investigate certain health concerns.
Test method: Finger prick test
What do we test for?
Cholesterol
HDL
LDL
Triglycerides
HbA1c
Vitamin D
Vitamin B12
Instructional video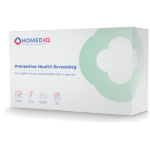 Easy to use from home

Professional analysis in a medically certified laboratory

Most affordable home test provider
About the Test
What's in the test?
Summary of Biomarkers
Medical consultation
About the Test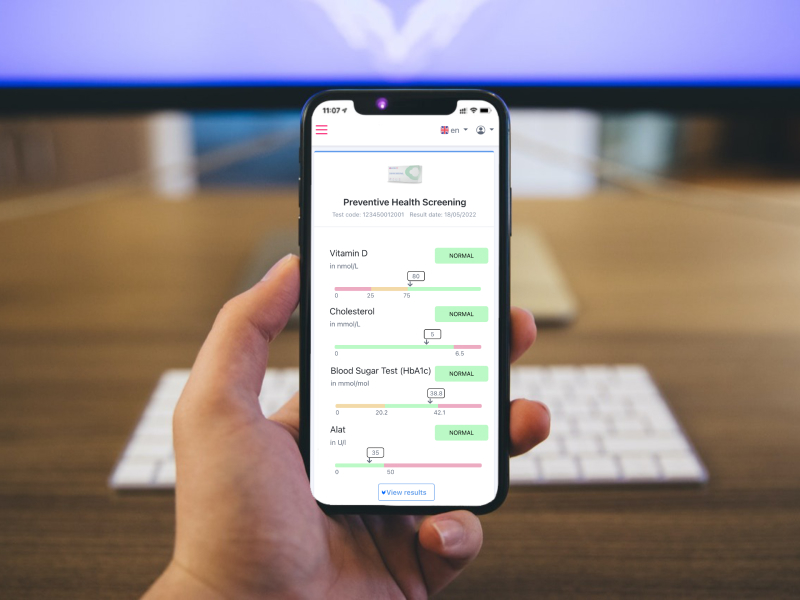 What is the Corporate Health Check?
The Corporate Health Check is a finger prick test that measures cholesterol and lipid levels, blood sugar, vitamin D, and vitamin B12 from home. Simply collect your sample and mail it to our certified laboratory for analysis. Your test results will be available within  a matter of days. It couldn't be easier!
What can the results of the Corporate Health Check tell you?
The results of this test measure key biomarkers related to blood sugar, cholesterol, and vitamin levels. This can help you assess risk of certain diseases or make certain health and lifestyle changes if needed. You will receive a detailed explanation of your test results along with a printable laboratory report that can be taken to your GP if needed. Homed-IQ's medical support staff are also happy to answer any questions related to your test results.
How do I collect my sample for the Corporate Health Check? 
This is a finger prick test that can be performed from home. Your test kit comes with detailed instructions on how to collect your sample, as well as all necessary materials. In order for the laboratory to have sufficient material to analyze all biomarkers, you will be asked to fill two small microtainers with blood.
What's in the test?
What's in the test?
Your test kit comes with everything you need to take a blood sample from home. Simply activate your test online and follow the instructions included in your kit to collect your sample before mailing it to our laboratory using the prepaid shipping envelope. Your test results will be available in your online account within days. 
Your test kit contains the following:
3 x lancets
2x blood collection tubes (1x Serum tube, 1x EDTA tube)
4x alcohol wipes
2x band aids
2x alcohol-free disinfecting wipes
1x return envelope
1x protective bag with absorbent material
Summary of Biomarkers
Cholesterol and Lipids
Cholesterol
Cholesterol is a waxy substance produced in the liver and found in every cell of the body. The body uses cholesterol as a building block for cells and hormones, as well as for the production of bile. There are two types of cholesterol: HDL (high-density lipoprotein) and LDL (low-density lipoprotein). HDL is also referred to as the 'good' cholesterol and LDL is known as the 'bad' cholesterol.
HDL
High-Density Lipoprotein (HDL) is also known as the "good" cholesterol because it transports excess bad cholesterol to your liver to clear it. Higher HDL levels are associated with a lower risk of heart disease and stroke.
LDL
Low-Density Lipoprotein (LDL) transports cholesterol throughout the body. When the body has too much LDL cholesterol, it can builds up in the walls of the blood vessels, causing heart disease and stroke. High LDL is associated with an increased risk of heart disease.
HDL % of total cholesterol
The percentage of total cholesterol refers to the amount of HDL (= "good" cholesterol) in the body compared to LDL (= "bad" cholesterol). The higher the percentage of total cholesterol is HDL, the better.
Triglycerides
Triglycerides are the most common types of fats in the body. Excess calories, alcohol and sugars are converted into triglycerides and stored in the body as fat. An elevated triglyceride level increases the risk of cardiovascular disease.
Blood Sugar
HbA1C
HbA1C measures the percentage of blood sugar attached to hemoglobin, the blood protein that carries oxygen. The higher the percentage, the higher your blood sugar. This test measures average blood sugar level over the past three months. High blood sugar level can be linked to Type 1 Diabetes and Type 2 Diabetes. Do you want to know what is the difference  between Diabetes Type 1 and Type 2? Then our article "Symptoms of Type 1 and Type 2 Diabetes" might be interesting for you!
Vitamin D
This test measures the level of Vitamin D in your blood. Vitamin D deficiency is common and many people may have it without knowing it, leading to non-specific symptoms of fatigue and low mood. Learning your vitamin D level can indicate whether changes in diet or supplements are needed to maintain a healthy value.
Vitamin B12
Vitamin B12 is essential for nerve function, cell metabolism, and red blood cell production. A vitamin B12 deficiency can cause nerve damage, but can have no symptoms until the deficiency is severe. This test checks the level of total B12 in your blood.
Medical consultation
Homed-IQ offers a free 10-minute telephone consultation with one of our doctors to discuss the results of this test. Schedule your free consultation with Homed-IQ's medical team in our online portal after receiving your test results. During this consult, you can discuss your results and any related questions with the doctor.
After you have placed the order, your test kit will be delivered within a few days in discreet packaging.
Activate and take your sample
After the online activation of the test kit, you can collect the test sample and return it to the lab for analysis.
A certified laboratory will analyze your test and share it with our medical team, after which you receive the results in your account.
Frequently asked questions
Does this blood test also check for celiac disease or food intolerances?
No, this test does not check for food sensitivities or intolerances. To order a Homed-IQ Celiac Test, please click here.
Can I also buy tests for specific health issues?
Yes! Homed-IQ offers a range of targeted health tests that offer a more in-depth look at certain health issues. Click here to view our full testing portfolio.
Can I order this preventative health screening blood test in bulk for my employees?
Yes! Homed-IQ is happy to offer large-scale testing solutions for your employees. We can offer tailor-made testing solutions for both large and small companies. Please contact us to receive more information or to discuss options and pricing.
How will the analysis of this blood test take place?
After you collect your blood sample, simply place it in the protective envelope and use the prepaid shipping label to send it to one of our partner labs. Your sample will be analyzed by our laboratory and the test result will be sent directly to your online account.
How accurate is this at home health test?
Homed-IQ uses only scientifically validated tests with the highest accuracy. Our tests are specifically validated for at-home use and are of equal accuracy to a test performed in the doctor's office.
How can I use the results of this blood test?
The results of this blood test in combination with your response to the health questionnaire can be used in discussions with your healthcare provider about potential health problems you may be experiencing that need further testing or investigation. You will also receive a detailed report of the test results with recommendations from our medical team on next steps.
How often should you do a general health check?
While opinions vary, routine physical exams are generally recommended once a year if you're over the age of 50, and once every 3 years if you're younger than 50 and in good health. If you have a chronic disease or other ongoing health issues, you should see your doctor more often, no matter how old you are.
Early detection and treatment of potential illnesses will help you maintain a healthy mind, body and quality of life.
Why are regular preventive health screening tests important?
Preventive health screening tests can help identify health risks before they develop into disease, or reveal health issues before symptoms become apparent. This can improve the chances of treatment and cure. According to the World Health Organization (WHO), the leading causes of poor health and death in Western Europe are preventable or can be delayed by early intervention (Source).