Chlamydia Home Test
€45,00 Free Shipping
Fast Results

Ordered before 18:00, shipped today

Free shipping on every order
Chlamydia is one of the most common STIs worldwide. Oftentimes, chlamydia infections don't cause any noticeable symptoms, making it possible to be infected without knowing it. Homed-IQ's Chlamydia Test is a certified laboratory test that you can do easily and anonymously from home. The test is delivered in discreet packaging and is entirely confidential.
Test mode:
For men: a urine test
For women: a vaginal swab
Window Period:
The window period is the time between when you were infected with an STI and when it is detectable with a test. The window period for chlamydia is 14 days.
What do we test for?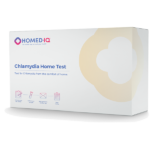 Easy to use from home

Professional analysis in a medically certified laboratory

Most affordable home test provider

Completely anonymous
About the Test Result
About the Test
Symptoms
Summary of Biomarkers
About the Test Result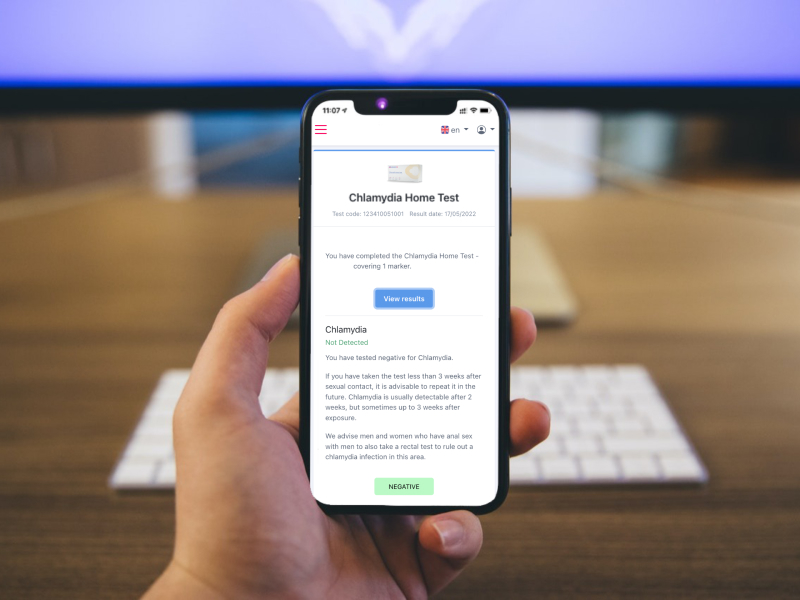 What does the result of this test mean?
Anyone who orders a home test from us will receive a complete laboratory report.
What does a negative test result mean?
A negative test result means that no chlamydia was found in the test material you supplied and that no STI treatment is required.
What does a positive test result mean?
A positive test result means that one or more STIs has been found and that treatment is needed. For your own health and to prevent the spread of STIs, it is important that you receive treatment if you test positive.
In the case of a positive test result, you can take the test results to your own doctor for treatment. You should also warn all your sexual partners to further prevent the spread of STIs. They can then have themselves tested and, if necessary, be treated.
How soon will I receive my test results?
You will receive the test result very quickly, often within one to three working days after your sample has arrived at our certified laboratory.
How results are shared
We understand that medical test results can be confusing and difficult to interpret. That's why at Homed-IQ we make it as easy as possible for you to understand your test result.
In your personal online dashboard you can view your laboratory report as well as a clear and simple explanation of your results. We provide insight into whether you have tested negative or positive for each individual STI.
About the Test
What is a chlamydia test?
This test checks for infection with the chlamydia bacteria. The test consists of a urine test for men, and a vaginal swab for women.
What's in the test kit?
An instruction manual
A pipette and test tube for a urine test, or a cotton swab with collection tube for a vaginal, throat, or anal swab
A protective transport bag
A return envelope
When should I do a chlamydia test?
There are several reasons why it may be useful to do a chlamydia test:
You have a new partner and want to make sure you don't have chlamydia
You've had or are planning to have unprotected sex
A former sexual partner has informed you that they have chlamydia
You suffer from symptoms associated with chlamydia (for an overview, see the 'symptoms' tab)
How does a chlamydia test work?
When ordering your test, please indicate whether you would like a male or female test. You will receive detailed instructions with your test so that you can easily take your sample from home. After your sample is collected, mail the test kit to our certified laboratory with the enclosed prepaid shipping materials. You will receive the test results within a few days.
When can you test for chlamydia?
The window period is the time between when you were infected with an STI and when it is detectable with a test. Every STI has its own window period. If you test for an STI before the window period has passed, you may test negative even if you are infected. See below for more information about the specific window period per STI and determine when you can reliably administer this test.
What is the window period for chlamydia?
Chlamydia: After 14 days
Source: Nederlands Huisarten Genootschap
Symptoms
Chlamydia symptoms in women:
Pain when urinating
Abdominal pain in the lower abdomen, sometimes with fever
Increase in vaginal discharge
Pain during intercourse
Bleeding after intercourse
Bleeding between periods
Chlamydia symptoms in men:
(Burning) pain while urinating
Discharge from the penis
Pain or swelling in the testicles
Pain during sex
Summary of Biomarkers
Introduction
Sexually Transmitted Infections (STIs) are infections that are transmitted through sexual contact. STIs can be transmitted through contact with the penis, vagina, anus, and sometimes also with your mouth or fingers. Many STIs cause little or no symptoms. However, STIs are not harmless, and an untreated infection can cause uncomfortable symptoms or serious damage to the body if left untreated. That is why getting tested regularly is important, both in order to prevent the infection from spreading to others and to ensure infections are treated promptly.
Chlamydia 
Chlamydia is a sexually transmitted infection caused by the bacteria Chlamydia trachomatis. This bacteria can cause an infection of the urethra, cervix, rectum or throat. Chlamydia is transmitted through vaginal, anal, and oral sex or contact with infected genital fluids. Left untreated, the infection can spread to the epididymis in men, and to the uterus or fallopian tubes in women. This increases the risk of infertility or an ectopic pregnancy. A chlamydia infection during childbirth can lead to eye or respiratory infections in the baby. Chlamydia is a very common STI and is treatable with antibiotics.
After you have placed the order, your test kit will be delivered within a few days in discreet packaging.
Activate and take your sample
After the online activation of the test kit, you can collect the test sample and return it to the lab for analysis.
A certified laboratory will analyze your test and share it with our medical team, after which you receive the results in your account.
Anonymous and personalized
We value the privacy of our customers; All Homed-IQ tests are completely anonymous
Reliable and safe
Homed-IQ's tests are analyzed in certified laboratories
Quick and easy
It's simple to perform our self-tests from home
Frequently asked questions
I have tested positive for an STI. How do I warn my partner?
Have you tested positive for an STI? Be sure to inform your recent sex partners. This is how you make sure they avoid serious complications from an untreated STI, prevent passing the STI to others, and prevent passing the STI back to you (if you are still having sex).
It is usually advised to tell the people you have had sex within the past 6 months. However, sometimes it is also necessary to tell partners from longer ago. Speak to your GP about who you should inform.
You may be nervous about telling someone you're having sex with that you have an STI. You can do this in several ways:
Telling them yourself via a phone, email or in-person conversation 

Anonymously warn them via

partnerwaarschuwing.nl

 (in the Netherlands) or wir-ruhr.de (in Germany). Using these services you can tell someone to get tested without making your identity known.

Ask your GP or the nurse at an STI clinic to let people you have had sex with know that you have an STI
Whichever method you use to choose, it is a good idea to inform past partners about STIs. They can then get tested and treated if necessary.
I would like to test the throat or anal area for STIs. How can I do that?
Would you like to test the throat or anus area for STIs? This is done through a swab test. Not all STIs can be detected using a swab test- for other tests you will need to take a urine sample, vaginal swab, or a blood sample. If you are interested in doing a throat or anal STI test, complete our STI Test Guide to see which STIs you are recommended to test for and which test products are recommended. Do you have questions about how to take each type of test? Find instructional videos on how to take a test sample in the blog: "Taking an STI test".
Why do I need to activate my test kit?
Homed-IQ test kits do not have customer names or information on them for privacy reasons. This means in order to link your test to your account, you must activate the test using the unique 12-digit test code before mailing it to the lab. The laboratory cannot process your test results or send them to you unless your test is activated.
How do I get treatment if I test positive?
Your test results come with an explanation of the results as well as a downloadable laboratory report. This report can be taken to a GP to receive a prescription for treatment.
For individuals in the Netherlands who have tested positive for chlamydia, our medical team can provide prescriptions for treatment if a visit to the doctor is not possible. In that case, our doctor will ask you by email to complete a questionnaire so that they can then send you a prescription to a pharmacy in your area. For treating other STIs, please contact a doctor.
Why should I choose a laboratory STI test and not a rapid test?
Homed-IQ's STI tests offer the same laboratory-certified results you would receive if you had an STI test done through your GP or a sexual health clinic. Homed-IQ works with the same labs that provide tests for clinics, and strives to provide your results quickly and confidentially. STI rapid tests that are available at e.g. the drugstore are often not reliable and may result in a false negative or false positive result.
Is this STI home test an alternative to a doctor's examination?
In the Netherlands, it is possible to get tested for free at the GGD until the age of 25 or if you fall into a risk group. Individuals older than 25 or who are not in a risk group can get tested at the GP or using a home test such as what Homed-IQ offers. While home STI testing is an alternative way to perform a laboratory test, it does not replace the advice of a doctor. Homed-IQ is unable to offer physical examinations, prescribe treatment (other than chlamydia treatment for Dutch customers), or provide follow-up STI care. If you test positive for an STI using a Homed-IQ test, take your test result to your GP for further advice and follow-up.
Will my health insurer reimburse this test?
No, at this time Homed-IQ does not have any reimbursement agreements with health insurers. In the Netherlands, if you test through the GGD because you fall into a risk group, testing for an STI is free. The cost of testing for STIs at the GP will be deducted from your health insurance deductible (own risk). The coverage of subsequent costs depends on your health insurance. Ask your health insurance company what exactly is covered.
Are you not in a risk group or is it too busy at the GGD? Then you can test at your GP or with Homed-IQ. Currently, Homed-IQ has no agreements with health insurers.
Has this STI test been reviewed by doctors?
All Homed-IQ self-sampling tests are scientifically certified for home use. This means they have been tested to see if the results of samples taken at home are as accurate as samples taken in a lab or doctor's office. It is not allowed to sell unvalidated medical tests. Furthermore, our medical team reviews all results and is available to answer any questions from our customers.
Do I have to go to the doctor for this STI test?
No, this test can be completed entirely from home. If you have tested positive, require medical advice, or have tested negative but are experiencing symptoms, take the test results to your doctor for follow-up care.
What are the advantages of this test?
The biggest advantage of this test is that you can easily take the test yourself at home. Using a self-test, you do not have to visit your GP or a clinic and still can obtain laboratory-certified, fast test results. With Homed-IQ, you may test yourself completely anonymously and perform the test at a time that suits you best.
How accurate is this STI test?
Our self-sampling tests are completely approved for home use. The tests have been validated by our lab to see if the results from samples taken at home are as accurate as samples taken in a doctor's office or clinic. It is only legal to sell validated medical tests.
Each Homed-IQ test is processed in a laboratory that is ISO15189 certified, which enables us to guarantee the reliability of all our tests.
Is this test really anonymous?
All Homed-IQ tests are entirely anonymous and do not require any direct contact with your GP.
What are the most common STIs?
Chlamydia, gonorrhoea, syphilis, herpes, HPV, hepatitis B, and HIV are some of the most common STIs worldwide. In the Netherlands, chlamydia is the most common STI (RIVM, 2021).
How often should I be tested for STIs?
If you have many or often changing sexual partners, or if you meet certain risk factors for HIV and/or other STIs, we advise you to get tested every six months. For example, because you are a sex worker. Additionally, you should consider getting tested if you've had or are considering having unprotected sex with a new partner (U.S. Department of Health & Human Services, 2021).
Who is this home STI test not suitable for?
The STI test is not suitable for people under the age of 18. If you are under the age of 18 and would like to get tested for STIs, please contact the GGD in your municipality or your GP.
It is also advised not to take this test during the window period for STIs. The window period is the time between the moment of infection (such as after unprotected sex) and when the infection can be detected by a test. If you have taken an STI test before the window period is over and have tested negative, it is advised to test again after the window period.
How can I avoid getting an STI?
Safe sex practices reduce your risk of getting an STI. These practices include using a condom or dental dam during sexual intercourse or oral sex and cleaning sex toys between users. Even when using a condom, not all STIs can be completely prevented. STIs such as chlamydia, gonorrhoea, trichomoniasis, and mycoplasma genitalium can be prevented using condoms or dental dams during sex. 
Genital warts, syphilis, and herpes can enter your body through your skin. Pubic lice or scabies can also be transmitted through skin-to-skin contact or pubic hair. Using a condom or dental dam will not always protect against these STIs if the affected area is not covered by a condom. 
HIV, syphilis, and Hepatitis B and C are transmissible through blood. This means that in order to become infected, body fluids such as blood, vaginal fluids, semen, or breast milk that contain the virus must enter the bloodstream. This can happen in various ways, such as through open sores, needle stick injuries, sharing needles, pregnancy and childbirth, or tears in the skin that occur during sexual contact. One cannot catch hepatitis or HIV through activities like hugging, sharing eating utensils, or sneezing/coughing. HIV can be avoided by using PReP before potential exposure, or PEP after being exposed. Hepatitis B can be prevented through vaccination. Men who have sex with men, sex workers, and children born after January 1, 2011 can get vaccinated against Hepatitis B for free in the Netherlands. 
If you have symptoms that could be an STI or if you have had sex with someone who has an STI, be sure to get tested. You should get tested even if you had sex with a condom.
Who is most at risk of getting an STI?
Risk groups for STIs include:
People who have been warned by a previous sex partner that they have an STI
People with symptoms that could indicate an STI
Men who have sex with men;
Sex workers;
People who use injection drugs
People from STI-endemic areas
Female partners of MSM and partners of people from STI-endemic areas;