The NHS Uses High-Affinity Testing to Detect levels of SARS-CoV-2 Antibodies

Amsterdam, NL. — Homed-IQ is excited to announce the details of a new COVID-19 antibody testing partnership with the UK's National Health Service (NHS), as a part of their Convalescent Plasma Programme. This collaboration came in response to the NHS Blood and Transplant's (NHSBT) request for blood plasma donations from people who had recovered from COVID-19 and had antibodies to the virus in their blood. Plasma with COVID-19 antibodies may be helpful when treating patients with an active COVID-19 infection, and will be used in new clinical trials as a part of the Convalescent Plasma Programme.

After the programme commencement in January, Homed-IQ will supply the high-affinity antibody tests for potential plasma donors for several months, who will then be screened for their antibody levels and invited to donate plasma if they meet the eligibility threshold.
Donors will be able to access their results through the Homed-IQ portal. Results data from the antibody testing program will also be reported to the NHS to further support COVID-19 surveillance and response efforts.
Individuals who have tested positive for COVID-19 and have not experienced symptoms for at least two weeks or who have been confirmed to have antibodies to the virus are potential candidates for plasma donation. The at-home antibody testing process provided by Homed-IQ can help determine if an individual has been exposed to the virus by detecting the level of antibodies in the blood, and eliminates the need for donors to travel to a facility for initial eligibility screening.
Patients with high antibody titres are encouraged to donate their blood plasma. Donating plasma does not affect the donor's immunity, as their body will continue to produce antibodies. More information can be found about plasma donation on the NHSBT website.
About Homed-IQ
Homed-IQ is a leading global life sciences company that is deeply committed to patient-centred care by providing end-to-end laboratory services. With a mission to better both individual and public health, Homed-IQ delivers world-class diagnostic solutions by using technology to improve the delivery of care. To learn more about Homed-IQ, visit www.homediq.com.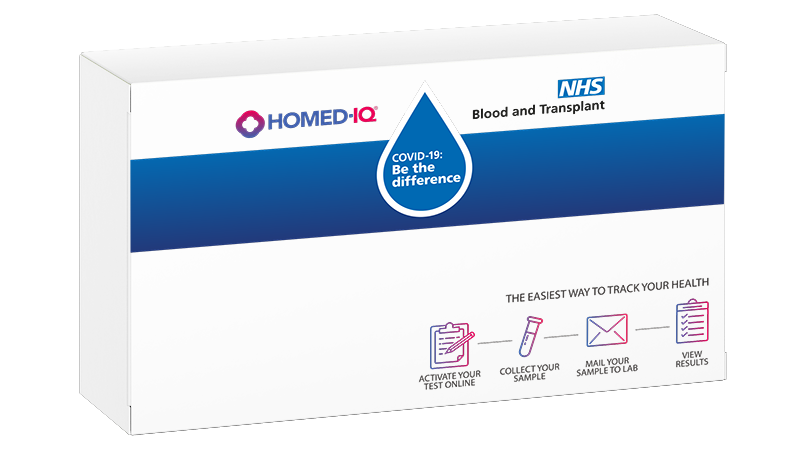 Homediq and NHS Blood and Transplant Custom Packaging
Cautionary Statement Regarding Forward-Looking Statements
This press release contains forward-looking statements, including but not limited to statements with respect to clinical laboratory testing, the potential benefits of COVID-19 serological testing, our responses to and the expected future impacts of the COVID-19 pandemic, and the opportunities for future growth. Each of the forward-looking statements is subject to change based on various important factors, many of which are beyond the Company's control, including without limitation, whether our response to the COVID-19 pandemic will prove effective, the impact of the COVID-19 pandemic on our business and financial condition, as well as on general economic, business, and market conditions, competitive actions and other unforeseen changes and general uncertainties in the marketplace, changes in government regulations, including healthcare reform, customer purchasing decisions, including changes in payer regulations or policies, other adverse actions of governmental and third-party payers, the Company's satisfaction of regulatory and other requirements, patient safety issues, changes in testing guidelines or recommendations, federal, state, and local governmental responses to the COVID-19 pandemic, adverse results in material litigation matters, failure to maintain or develop customer relationships, our ability to develop or acquire new products and adapt to technological changes, failure in information technology, systems or data security, and employee relations. These factors, in some cases, have affected and in the future (together with other factors) could affect the Company's ability to implement the Company's business strategy and actual results could differ materially from those suggested by these forward-looking statements. As a result, readers are cautioned not to place undue reliance on any of our forward-looking statements. The Company has no obligation to provide any updates to these forward-looking statements even if its expectations change. All forward-looking statements are expressly qualified in their entirety by this cautionary statement.